Dam: Karraway Lil Orphn Annie of Kinross, DM
Sire: GC, RW, NW, Kinross James McGlynn
Kinross AJ's Amazing Grace
Gracie is a brown classic tabby girl. She has straight ears and a to-die-for soft short coat with extremely defined markings. She is an active little girl who loves to play with anything that moves! She also loves to eat, and thinks that every time you go into the kitchen that you are preparing her next meal!
Gracie now lives with Marjorie and Mike, Max, Gus and Teddi in Arizona. She loves the enclosed porch where the sun comes streaming in. Here are some pictures of Gracie in her new home.
2016 Update: Unfortunately, Gracie left for the Rainbow Bridge way too soon. Her spirit and presence can still be felt by her human mom and dad. They created this little memorial video.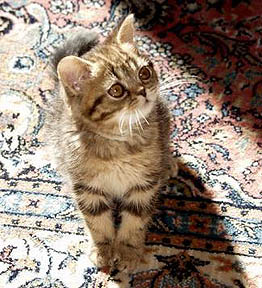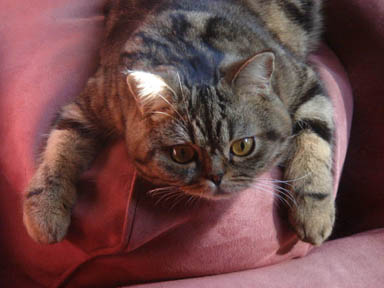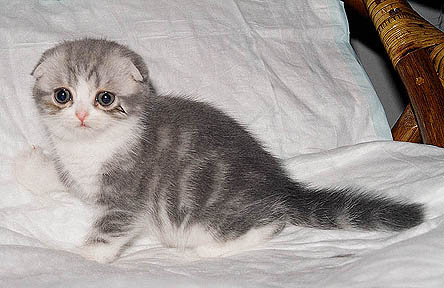 Little Princess
LP is a blue and white classic tabby and white girl. She has folded ears that are tight and small. Her coat is short and very dense. She can be found cuddling up on the nearest available lap.
LP now lives with Carrie in Columbus, Ohio. Here she is in her new home: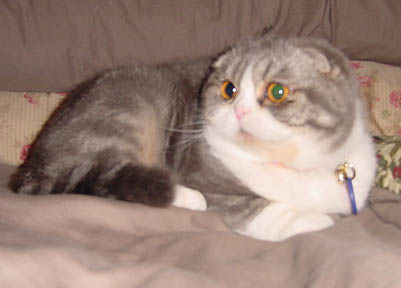 McKenna
This is a classic silver tabby and white, folded-ear, longhair girl. She has a very soft coat. This girl is the instigator in any activity. She thinks the world was made strictly for her pleasure! And then, she'll find a warm lap to cuddle up on.
McKenna now lives in Arizona, with Glenna and Mike, and with her cat-friend, who she has made friends with already. Here are some pictures of McKenna in her new home.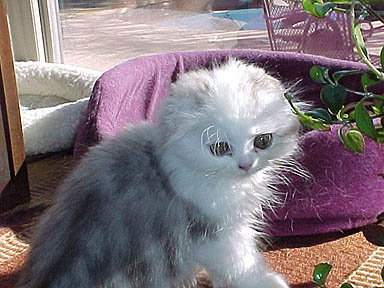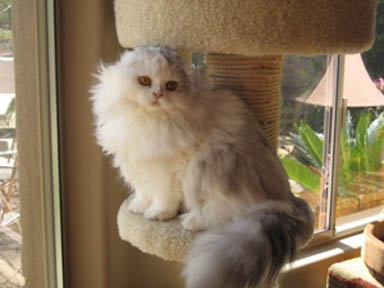 Page updated August 6, 2008