Dam: Karraway Lil Orphn Annie of Kinross, DM
Sire: CH Kinross Highlander
Annie
This is a straight-ear, long-hair, brown classic tabby and white girl. She is a very sweet and friendly girl. She loves to follow us around everywhere and also loves to be held.
Annie now lives with Jo and Bob in South Carolina, along with their other cat Tillie. This is what Annie looks like now: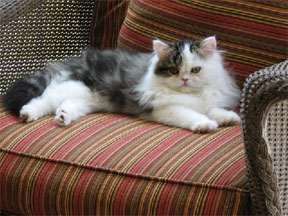 ---
GC Kinross Vanilla Ice of Waterdew
This is a folded-ear, short-hair blue van tabby boy. He is an active boy, always wanting to tussle with his sisters. But then he can sit on our laps and purr endlessly.
Iceman is now on the show circuit as a kitten. He LOVES all the attention and thinks the whole thing is a blast! Check out his own page...
---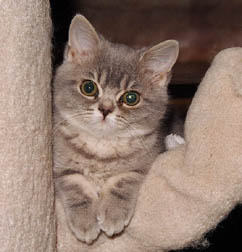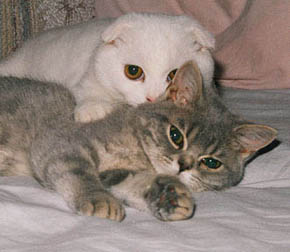 Ion
Ion is a straight-ear, short-hair blue classic tabby girl. She loves to tussle with her brother, and can keep up with him easily.
Ion now lives with Rosie and Will in Buffalo, NY. She and Squez, Amy's folded-ear boy, have lots of fun together.
---
updated August 31, 2007