Born: October 29, 2006

Dam: Kinross Tied Up With String (aka Dyna)
Sire: GC, RW, NW Kinross James McGlynn
---
Sarah
Sarah is a brown and white classic tabby. She has long hair and folded ears. She is a confident kitten and does not let the bigger, older cats bother her at all! Sarah now lives in Mount Forest with Lori and Brad. Read about her new life. Here is Sarah now:
---
Chip
Chip is a long-hair cameo and white classic tabby. He also has folded-ears. He is an extremely friendly little guy. He loves to play with the larger cats in the house. He also loves to eat!
Chip now lives with Debbi and Art in Virginia. Read about his new life. Here he is now: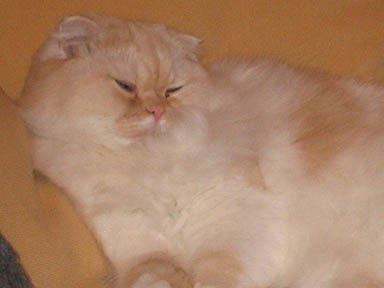 ---
New Home Updates:

Chip:
Just to let you know, Chip got his birthday card from you and loved it. He thought that was very thoughtful of you all. He is doing really well and seems happy as can be. He sleeps above my pillow at night with his paws on my head! It's too cute.
Chip is wonderful. He seems very happy. He is my best buddy. He sleeps at the foot of my bed and in the morning after he gets a bit of tuna he knows where I sit and read the paper and is already on the top of the chair before I get there. He is always near me or on top of me when I am home. He loves to play with anything he finds and burrow under pillows and blankets. He is a total joy to have. We love chip very much!
Chip has a beautiful coat and takes very good care of himself. He is great company and as sweet as can be. He loves his toys. He's the sweetest cat ever!
Sarah:
Thank you for the birthday card, I was surprised to get mail for Sarah! I don't know what we will do for her birthday yet, I'd say let her do whatever she wants but she does that everyday anyways. She is a huge spot stealer, if there is a favorite laying spot for anybody else she is fast at stealing it for herself, and she won't budge if they want it back! Her strong personality has stayed with her, no-one pushes her around, not even Indy. She's the only one Indy even tolerates, he wouldn't dare take a swat at her.

We call her the grumbler though, if we pet her too long or carry her somewhere she doesn't want to go she lets us know, she even resorts to hissing and spitting, never mind the low growling! What a spoiled kitty we have raised. She is my little cuddle-kitty every morning though, that's when she is most affectionate, good thing too, she is my alarm clock when I almost sleep in.

Her tail has filled out amazingly, it's so bushy and full now it's hard to comb through! And everyone comments on her beautiful coloring, she is an incredible looking kitty.
Page updated on August 22, 2008