Born: September 26, 2007

Dam: Kinross Tied Up With String (aka Dyna)
Sire: GC, RW, NW Kinross James McGlynn
Kinross Benjamin Boden
Benji is a brown classic tabby folded-ear boy. He has nicely folded ears and a soft, plush short-hair coat. He loves to jump on his sister. He also loves to play with the tinsel wand.
Benji now lives with Vicki in New York. Here's what they're saying...
Kinross Elizabeth of Bell de Nissans
Elizabeth is a black smoke and white straight-eared girl. She has a solid body and a soft short-hair coat. She loves to climb, and jump on her brothers. This girl loves to eat! She is extremely affectionate and loves to give me nose kisses! She is very good with the younger kittens.
She is doing well at her new home in Russia. They say she is funny and very smart! Here she is now: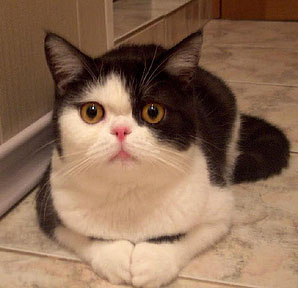 ---
Kinross Sammy Saylor
Sammy is a cream tabby and white straight-eared boy. He is also a short-haired kitten. He loves to chase the laserlight and play with the tinsel wand.
Sammy now lives with Debbie and family in Cobden, Ontario. He shares his new home with a poodle. Here is what they are saying about him now...
---
NEW HOME UPDATES:
1. Benji is doing great! He has now been joined by Puff, our oldest (15 years old) as I could not have 3 cats where I live. They are trying to establish dominance – much to Puff's dismay, Benji appears to be winning! He remains cute, loveable and in the throes of being a "teenager".
1. Well, it's near ten and Sammy is tearing around the house. I had to work dayshift today, so he was left to his own devices, with only the poodle for company. He got along good, and no house damage. LOL He is being such a loveable kitty, he follows us all over and purrs and purrs. I was in the basement building a condo, and there was one of those really large packages of Paper towels nearby, and doesn't he jump up and settle himself on top the package! He's quite the little showoff. The little brat rubbed up against some of the stuff I was building and got wood glue in his fur, but luckily it was easy to get out with water, so he's all soft and pretty again. It's hard to keep him away from what I'm doing, he's so nosy, he has to check everything out. So, that's today's news.
2. Sammy has settled in nicely, and is quite the little presence here, too. In fact, he is racing around the living room right now, trying to see what kind of trouble he can get into. He likes to sleep at the end of my bed and wake me up at least once a night for hugs and pets. Oh, and he loves to watch the toilet flush. LOL He also loves to sleep on top of my canvas gym bag. There is an indent in it, and it just fits him. He does get into that little basket where I keep his toys, once in a while though. His favorite thing is to go down to the basement where we keep wood for the furnace, and bring sticks upstairs to play with, and anything he finds he will try to pick up and carry it around. He found a little paper cup one day and was carrying it from room to room. That was cute. He's getting along ok with the dog, although the dog gets irritated with him and a bit jealous. The dog will chase him at times, and he just runs away, and when the dog turns around, he jumps at her from behind. Quite the little brat. LOL He purrs like a little motor, and likes to lay on my chest for a while, then moves somewhere more comfortable. Our house is nice and cozy warm with the wood heat, so he's never cold, and sometimes likes a cool place to lay, which is behind a chair or down in the basement. I snapped a couple of pics tonight, him in his basket, under the coffee table, and prowling over a pile of newspapers. (he saw something in the window-probably his own reflection) He's such a comedian, and we love him to pieces!
Page updated on August 8, 2008