NATIONAL WINNER

GP, NW KINROSS MAKE A MEMEARY OF BELIEVERS
Blue Mackerel Tabby & White Long-Hair Female
aka "Jann"

Born: October 24, 2007
Dam: Kinross Little Dot, DM
Sire: GC, BW, NW Kinross James McGlynn
Jann is a special little girl. She was the smallest kitten in the litter of four, but that didn't stop her from being the leader of the pack. Her outgoing personality was infectious, and from her very first kitten show, she was confident and eager to show herself off to admiring judges and audience alike.
Named for the Bon Jovi song "Make a Memory" and nicknamed for the late Jann Munn, she was the little kitty who could not wait until next show season. She was a one-show Grand Premier in CFA. She reached this milestone at the Garden State Show in New Jersey - her first show as a premier! Jann had originally planned on attending college with Phillip for his last year, but she was doing so well at the shows that Phillip didn't want to stop her momentum. Like Bethany says: "College is not meant for everyone!"
Thanks to Ronna & Bethany for showing this special girl and presenting her so well!
They escorted Jann as she attained the status of:

The first-ever Long-Hair Scottish Fold in Premiership to make a National Win

and

11th Best Cat in Premiership in CFA for the 2008/2009 show season
---
Recent Accomplishments:
CFA - National:
11th Best Cat in Premiership
CFA - Region 4:
3rd Best Cat in Premiership
Best of Breed Long-Hair Scottish Fold in Premiership
CFA Breed Council:
Best Long-Hair Scottish Fold in Premiership
ISFA:
National Best Long-Hair Scottish Fold in Premiership
Region 4 Best Long-Hair Scottish Fold in Premiership
National 8th Best Long-Hair Scottish Fold Kitten
Region 4 Best Long-Hair Scottish Fold Kitten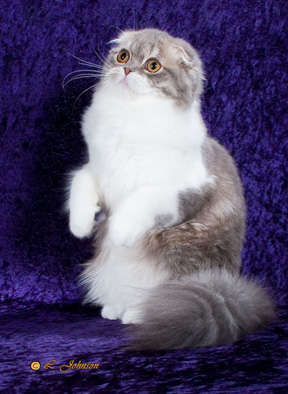 go HOME