Born: May 2, 2006

Dam: Kinross Margaret McMorland
Sire: GC, BW, NW Kinross James McGlynn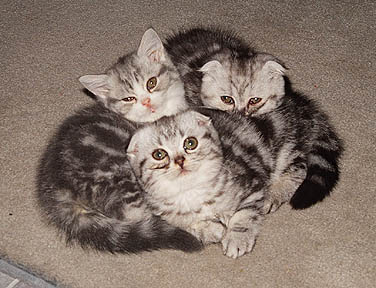 DAPHNE
Daphne is a straight-eared blue tabby and white girl. She is the only kitten in her litter with a pink nose, and the only one with straight ears. Daphne is a sweet, adorable little girl who will cuddle up on your lap for a nap, or play endlessly with a wand.
Daphne has now gone to her new home in Waterloo, Ontario, with Nancy & Steve. Here's a picture of her now: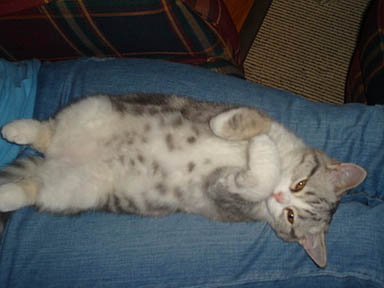 STIRLING
Stirling is a silver classic tabby folded-ear boy. He is a live-wire, constantly on the go. He loves to jump on his sisters, who will turn around and jump on him! He is a solid little guy with a soft coat and a sweet expression on his face.
Stirling now lives with Valerie in Niagara-on-the-Lake, Ontario. Here he is now: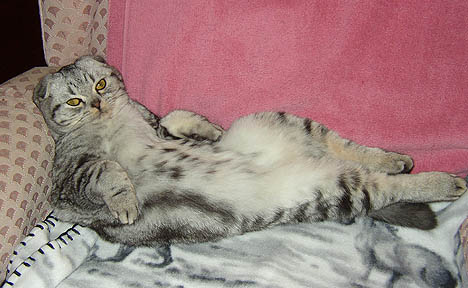 MAE
Mae is a silver classic tabby girl. Mae is the quietest of the three (if that's possible), but still is not afraid to ask for what she wants. Usually food!
Mae has gone to her new home in Erie, PA, with Sue. We hear things are going very well, and that she loves to steal food off their plates when they're eating in front of the TV! Here is a picture of her now: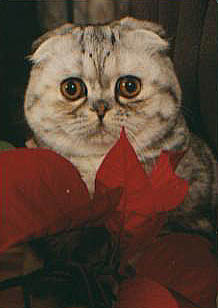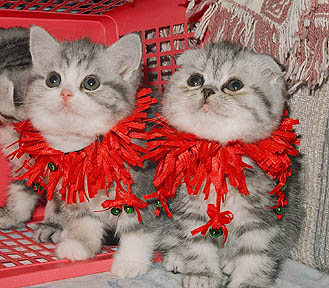 ---
Page updated on January 11, 2007