MASTER GRAND PREMIER, INTERNATIONAL GRAND PREMIER
MIGEM'S SCOTTY C.N.W.

CCA's Top Alter 1997-98
This photo was selected by the 365 Cats Page-A-Day calendar for December 24, 1998. See the
brag page
.
Born: May 19, 1995
Dam: Migem's Bonnie Lirette
Sire: Denimar's Jazzy Joe of Petagaye
*affectionately known as Scotty

Scotty is completely retired from the show circuit, and his duties now consist of playing with his grandchildren, great-grandchildren and the other kittens. He loves to enter into any activity that may be going on. Scotty knows he's the top cat around the house, and sometimes he likes to remind everybody of that fact. Scotty loves to be petted and stroked -- if he can keep all four paws on the ground. He gets along with all the cats, and is very gentle and affectionate with the kittens. The girls love him, and sometimes go up to him and want to cuddle with him.
| | |
| --- | --- |
| | |
| This picture of Scotty and the cat bird bath won First Place in CATS USA 2001 in the "Hilarious Hijinks" category! | This picture of Scotty sitting in his favorite position won First Place in CATS USA 2003 in the "Pure Silliness" category! |
Scotty loves to pose with hats and clothes. He is so easy-going!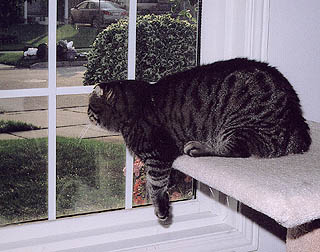 Media Release
Local Cat Wins All-Canadian First!
(Cambridge -- June 19, 1998) His owners call him Scotty, but now his proper title is Master Grand Premier Migem's Scotty C.N.W. Scotty is the first-ever Scottish Fold cat to be named Top Alter in Canada. "This is a big win for the Scottish Fold breed," say Bruce & Ev Russell, owners of Kinross Cattery in Cambridge, breeders of Scottish Folds.
Scotty received the trophy and ribbon as Canada's Top Alter for 1997-98 season at the Canadian Cat Association Awards held June 13 in Ste. Foy, Quebec. He also won Best Shorthair Alter in Canada. CCA has two adult divisions: Premiership (Altered cats) and Championship (nonaltered cats). Winners are decided by points achieved at shows during the season.
Scotty has been on the show circuit since August 1996. Some of the distinctive awards he has won include "2nd Best of the Best" alter in Montreal in 1996, "Best of the Best" (twice) in Belleville in October 1997, "3rd Best of the Best" in St. George, PQ in March 1998, and "2nd Best of the Best" in Ste. Foy, June 1998. He also received a medallion for achieving "Master Grand" status in July 1997 in the Canadian Cat Association.
The Scottish Fold breed was first discovered in Scotland in 1961, when a white folded-ear barn cat, Susie, was discovered by William Ross. This breed, like a small number of other breeds, was the result of a naturally occurring gene mutation. Scottish Folds are characterized by folded ears, round head, wide expressive eyes, and a quiet, gentle disposition. One of the first breeders to work with the Scottish Fold in Canada, bringing the breed to recognition for Championship status in CCA, was June Snell, London, Ontario, where Scotty was born.
What does the future hold for Scotty? "Well, says Ev, "he may make a few guest appearances, but he'll probably spend most of his time enjoying life with his human and Scottish Fold companions."
--30--
Recent achievements:
Granded in CCA on April 30, 1997;
Master granded in CCA on July 8, 1997 at the York County Cat Club show in Newmarket, ON.
1998-99:
ISFA Region 4 Best Shorthair Alter
CFA - May 29-30, 1999
Scotty becomes a Grand Premier at the Golden Triangle Cat Fanciers show in Kitchener, ON.
CCA Awards Banquet - June 19, 1999
Scotty is 10th Best Alter in CCA
Scotty is 5th Best Alter in the Ontario Region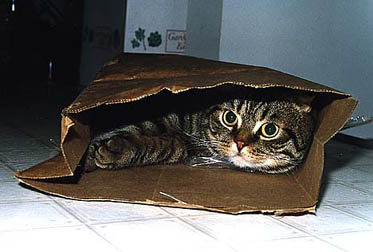 The May cat loves his home and his food;
the ideal pet for the loyal cat lover.