Born: November 22, 2009
Dam: GC Kinross Amazon.com, DM
Sire: MacGilli's Oliv'ear Twist of Kinross
Follow their development from birth to present on Facebook here.
Kinross Damian McGinty & Kinross Ryan Kelly
Both boys are brown tabby vans. Damian and Ryan were named after Celtic Thunder performers. They live together with Pat in Auburn, NY., along with Rosie, Duffie, Issy and Linda. Here are some updates from them. Here they are now: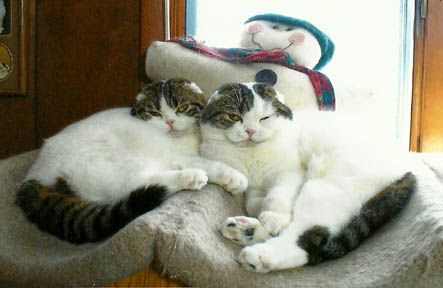 ---
DotCom
DotCom is a brown mackeral tabby girl. She is the first to do everything. She really bossed the boys around for awhile, but now she is acting more like a little girl. She loves her older sister Fenella, and snuggles up to Scotty whenever she gets the chance.
DotCom now lives with Karen & Steve in Connecticut. She has a new sister Bonny. Here's an update on her new life. Here she is now:
---
Guiseppe
"Joe" is a brown mactabby and white straight-ear kitten. He is the biggest kitten in the litter. He now lives with Lisa and her family, plus another Kinross kitty, Romeo.
---
Damian & Ryan: The boys bring me so much joy at this point. They are so great together. It is good they were not separated. They love their cave under my bed and sleep together. They love to spend time with me when I sit down. And they can eat! Can't keep them full! Issy seems to be tolerating them, Duffie still thinks she needs to hiss at them, and Rosie doesn't care as long as she gets her drip in the tub. All in all, the boys have settled in here great, and I love them!
DotCom: She lays like this in the window all the time. It's even funnier to see from outside the window! I like the third one, because she had just sauntered up and plopped practically on top of Bonny...and Bonny's face just says it all: "Oh PUUULEASE! Must you?!"
Page updated August 2010