GC Kinross Amazon.com, DM
Blue Mackerel Tabby and White SH Female

Born: October 21, 2005
Dam: Rum Gully's Dottie McPherson, DM
Sire: GC, BW, NW Kinross James McGlynn
Amy is a perfect blend of her father's show presence, his wide eyes and very pink nose, and her mother's in-your-face friendliness toward humans, her superior attitude toward the younger kittens, and her fiesty spirit.
Amy became a Grand Champion on October 28, 2006 in Brockport, New York.
---

Here are Amy's babies:
Litter#1 - March 4, 2007
Litter#2 - May 18, 2008
Litter#3 - February 20, 2009
Litter#4 - November 22, 2009
Litter#5 - January 18, 2011
Amy's Grands are:
GP Kinross Sean Conn'eary of Believers
GC Kinross Fenella
GC Kinross Brannigan
GC Kinross Jack Frost
Kinross Good Golly Miss Molly, DM *(see explanation)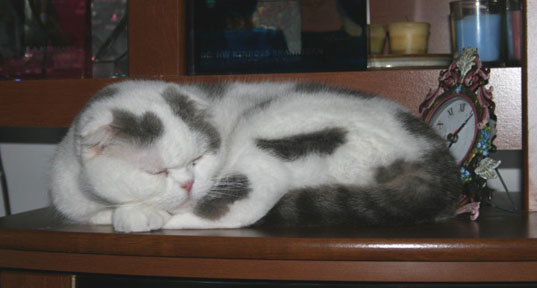 ---
Recent Accomplishments:
ISFA:
National 7th Best SH Scottish Fold Kitten (2006)
Region 4 - Best SH Scottish Fold Kitten (2006)
CFA Grand Champion - October 28, 2006, Brockport, New York.
* Amy has been bestowed her designation of "DM (Distinguished Merit)" as a result of her daughter Molly's son, GC Kinross Ears 2 Howie becoming a Grand. Howie's grand gave his mother Molly a DM, which in turn gave Amy (Molly's mother) a DM.

"October's cat loves the finer things in life like soft cushions,
gentle music and constant shows of affection."