Dam: GC Kinross Amazon.com, DM
Sire: MacGilli's Oliv'ear Twist of Kinross
GP Kinross Sean Conn'eary of Highlander
Sean is a brown and white classic tabby folded-ear boy. He is extremely playful and loves to do the side-dance. He is the only long-haired kitten in the litter. He is very busy right now attending shows and is doing very well. Check out his own page.
---
Kinross Prince Charming of Eurofold
This black and white boy is the only straight eared kitten in the litter. He is definitely a daddy's boy with his solid body. He is extremely active and friendly, and will jump anywhere to get the laserlight.
Prince now lives in Russia at Eurofold Cattery.
---
GC Kinross Fenella
Fenella is a brown and white mackerel tabby, short-hair, folded-ear girl. She loves to follow me around, and loves to be picked up and cuddled. She has her father's round head and expressive eyes, and his brown tabby pattern as well. She has her mother's nicely folded ears and nice coat. Check out her own page.
---
Ferguson
Ferguson is a brown and white mackerel tabby, short-hair, folded-ear boy. He still has to learn how to stop before he gets to a wall. He is the largest kitten in the litter.
Ferguson now lives with Margaret near Syracuse, New York. She says that he is really happy and loves to play. He has about 5 special new toys: a velvet frog, a velvet spider, a velvet turtle, a little bag of catnip and a small mouse with a bell on it. He loves to throw them up in the air and spin.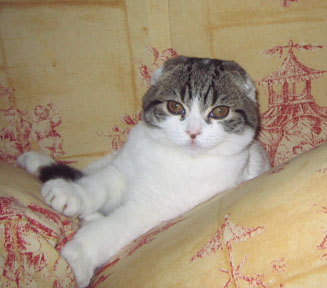 ---
Kinross Callum Bruce
Callum is a brown and white mackerel tabby, short-hair, folded-ear boy. He is the smallest kitten in the litter, but this does not deter him from anything! He is the first to try everything! He has absolutely no fear of the bigger cats in the house, and he LOVES to eat!
This affectionate little fellow now lives in Erie, PA with Sue and her family, and is a "little" brother to Mae. See below for updates. Here's what Callum looks like now: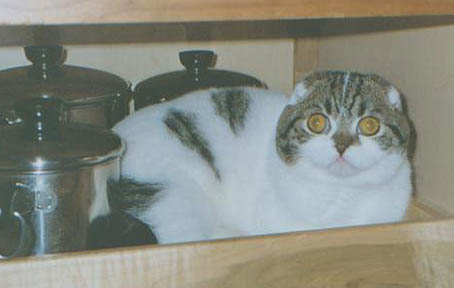 ---
Callum:
#1: Just wanted to send you a quick update on Mr. Callum Bruce. He was the "perfect" pick for me. He is sooo sweet and sooooo lovable and cuddly. He follows me everywhere and either sitting or laying on top of me or sitting at my feet if I am standing in the kitchen. He is such a sweetheart. His interest in food certainly has NOT diminished! He still has his little tiny head – but getting quite broad in the back end!! Mae is accepting him better. I frequently come home from work and they both are asleep on the bed – a few feet apart from each other – but I'm happy with that. Mae still knows she is the Queen and still gets lots of attention from me. She still chases him and tries to jump on him from time to time – but he knows she is the boss and he is not aggressive toward her at all – and usually he runs toward me, where he knows he is safe. Mae doesn't ever hurt him either – she mainly just likes to chase him and be chased by him or have me chase her as a game. I think Callum weighs about 2 lbs more than Mae does. He is short and stocky. So, thank you for another perfect kitten! He definitely has developed his own personality – but he is very laid back and easy going.

#2: He is just so sweet and good natured. I just can't tell you how much I love him. I didn't think I could love another cat as much as my perfect Miss Mae, but he is right there with her. My heart just melts when I see him.
Page updated May 2009