Born: January 18, 2011
Dam: GC Kinross Amazon.com, DM
Sire: Rum Gully Snowman
Follow their growing up on Facebook here...
---
Kinross Jack Frost
Jack is an all-white, folded-ear, short-hair boy. He has a solid body and a soft, plush coat. He has gone to several shows already. He can be a ham at times, but he is also a cuddler when he wants to be.
He will be staying at Kinross. Check out his own page here...
---
Abby
Abby is a straight-ear, short-hair, blue mackeral tabby and white girl. She is an ultra-friendly girl who loves to snuggle. She has a loud purr that can be heard across the room.
Abby has left for her new home in North Carolina with Doug & Lynn. They have fallen in love with her. Here are some updates from them. Here she is in her new home...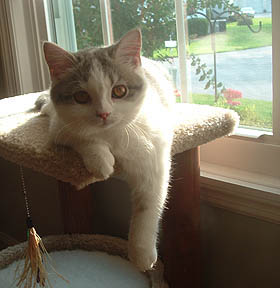 ---
Neil Bryne
Neil and Jack are almost identical, and were always difficult to tell apart. Neil was just a teeny bit smaller than Jack, but everything else was the same. All white, both folded ears, both boys.
Neil now lives with Pat and the gang in Auburn, NY. Shown here is Neil's older half-brother, Ryan. Here are some updates.
---
Finn
Finn is a folded-ear girl. If you look very closely, you can see 3 very small, very light blue dots on her forehead. They may disappear as she grows. What a little sweetheart this girl is...
She now lives with Jill in Burlington, Ontario. She shares her home with another Kinross kitty, Fee. Here she is in her new home, and here are some updates.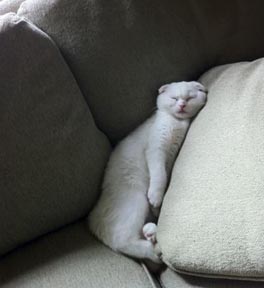 ---
Bowie
---
#1 - Every day gets better..Fee and Finn were standing beside each other...sort of a stand off situation....with Fee glaring and Finn arching her back and then relaxing and lying down and then sitting up looking at Fee.. I assume they are deciding how they will live together under the same roof...There is a lot less hissing and at one point yesterday they were on the same sofa..just sort of hanging out..
#2 - As you can see...Fee and Finn have reached an understanding..no more hissing unless food is involved but even then it is minimal... Finn loves to dash into closets without us being aware...Then when we can't find her...panic sets in...she gives a little meow and we finally find her...Finn thinks this is hysterical...
#3 - Finn is sitting on my shoulder right now..She is very cuddly...and very active and playful. Now for the good news...Fee actually likes Finn now...They touch noses..rub against each other and have a chasing game every so often. Fee wants to be the boss and Finn does the passive thing..(flopping onto her back in front of Fee..I never thought it would happen..
I have the two best kitty's in the world.
#1 - Neil discovered the ball that goes around in those plastic circular toys with the carboard in the middle. Played last night for almost an hour, then took a nap on the ball. He likes the birdie fly toys a lot. The things that don't move on their own do little for him.
#2 - We had a lovely sleep with the three boys last night. No girls came as I was heading to bed or when I got up for the bathroom. Neil loves the two cat trees in the bedroom. Scurries right up them, then jumps from the top and scares me to death. He also loves the scissle rope on them and pulls his claws through there a good 5-10 minutes. When I left Damian was in the bedroom with him and Neil was in a pillow bed just hanging out. Did scare him last night. I have the remnants of a really bad cough. He had been on my lap for an hour getting loved and I started to cough, shall I say he did not stay. Tried to grab him, but couldn't. He wondered around the livingroom a little, then I picked him back up. More love time.
He is a trooper and making his move with ease. Once yesterday on the bed Damo gave him a quick slap up the head, but no hissing, spitting, fighting. Just a don't do that.
#3 - Neil seems to think my boys are his momma. He curls right up with them. Keep finding he sharing a cat bed with Ryan and curled up on the bed with Neil. School slows down in two weeks and finiishes in three weeks. Maybe I can convince him that I am the one he is to bond with. Last night he was walking around the house with a stuffed toy that was half his size. Took it all around. Likes catnip. He is just what the boys and I needed.
#1 - Well, we've got "some" cat here. She has really opened up this past two days. Occasionally she's get scared and goes and hides under the sofa when a new noise or someone walks into the room, but shortly comes back out. She's now going into the morning room which she's ignored since being here. She's been using her litter box regularly and just this evening, I caught her using the scratching post, which I helped teach her to use. Finally eating and drinking with regularity. Loves to play with all the toys and chases the laser light. That's so funny to watch. When I'm sitting on the sofa, she'll jump up and sit right on my lap, sometimes rolling over on her back. Had to scold her a few times when she climbs on tables, TV cabinet shelves, but learns quickly not to do it again. I've attached two photos of her sitting at the window (cat TV) watching the birds outside. Her lips quiver when she sees a bird, fun to watch.

#2 Hey, this cat's doing good. She into everthing and every where. It's funny watching her sometimes, she'll be laying content one second and the next she goes spastic. Like to have some of that energy for my own. But she's really a sweet kitten and Kate just adores her when she's here. We stopped after the second night here, of letting her sleep with us. She would pounce a good deal of the night on and off the beds and bite your toes under the sheet. So she's been contented sleeping out in the living room somewhere. She always has access to her food and litter box. Attached is a photo of her taken this morning at her pedestal by the window. If you look out the window you can see the humming bird feeder (red). Just below the window ledge is a row of hedges which have berries on them and the Mocking birds come and eat them. When she sees a bird, her upper lip will quiver and the tail goes mad.

Page updated August 2011