Dam: GC Kinross The Littlest Angel
Sire: MacGilli's Oliv'ear Twist of Kinross
Kinross Cutie Honey of Foldy
Honey is a long-hair, brown-patched tabby van girl. She is a friendly girl who likes lots of attention. She loves to play with the laser-light. She is lightning-fast, and will find a way to get wherever she wants to go. Honey now lives in Japan, and has given Foldy Cattery many nice babies.
Here are her 5 babies that were born on November 17, 2007.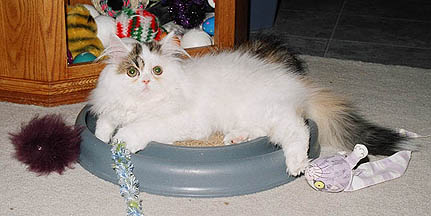 ---
Kinross Cowabunga Dude! of Earmark
(aka "Jack")
Jack is a short-hair, folded-ear boy. He has one spot too many to be a van. He has nicely folded ears and a solid and compact body. His favorite toy is the tinsel wand - he will run as fast as his little legs can carry him to get it! He LOVES the new remote-controlled mouse that everyone got for Christmas from Auntie Heather and Uncle Morley. He will flip it onto its side so it can't get away from him.
Jack now lives with Dawn & Patrick at Earmark Cattery in Arizona. He has endeared himself to them from the first minute he arrived! He will be going to his first kitten show in the very near future. We look forward to hearing great things from Jack and his success at the shows.
Here he is now: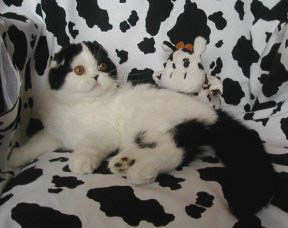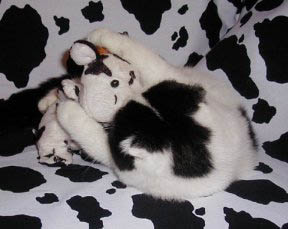 ---
Page updated January 16, 2008