Dam: Karraway Lil Orphn Annie of Kinross, DM
Sire: IGC Beepafold Elvis Stojko of Kinross, DM

Kinross Anniel
This little boy is black smoke and white. He has long hair and straight ears. He's very friendly and loves to tussle with his brother and the other kittens. He is such a sweetie; if the other kittens are getting attention, he has to get some, too. He's going to be a big boy!
Anniel now lives in Montreal, Quebec at Chatterie Gael. Here he is in his new home: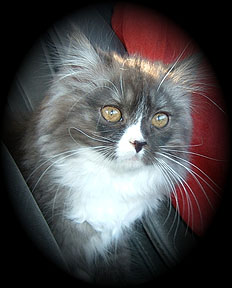 GC, BW, NW Kinross James McGlynn
Jimmy is a blue-silver tabby and white boy. He has tightly folded ears and a compact body. His long coat is extremely soft. He looks up at us with a sweet "adorable me" look. At his first show he came home with 2 kitten rosettes! He now has his own web page!

Page updated May 3, 2005