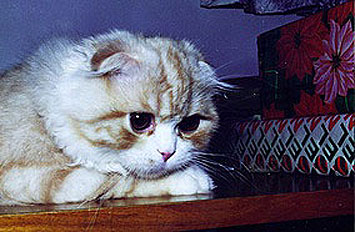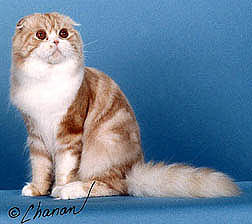 IGC BEEPAFOLD ELVIS STOJKO OF KINROSS, DM
*affectionately known as Gabriel
*cameo classic tabby & white folded-ear male
Born: August 4, 1998
Dam: GC Beepafold Caryn Kadavy of Fruition
Sire: Beepafold Robin Cousins
Gabe is a longhair (known as a Highland Fold in Europe) Scottish Fold. He is probably the most easy-going, laid-back, gentle cat in the whole house. He loves to be held, petted and talked to. He will play with everyone, and will even cuddle up with the kittens. Everyone loves Gabe, and he is well-known on the show circuit (as Elvis Stojko) with his confident, relaxed demeanor and presentation. Along with winning ribbons and high honours within the Scottish Fold breed, Gabe has produced many beautiful, loving kittens, some of whom are carrying on the long-standing family tradition of life as a show cat.
We are so proud to announce that our Gabriel is now a Distinguished Merit in CFA! This means that he has produced 15 Grands. This is a very special moment for us, as it took us 10 years to accomplish this goal. Gabriel is one of only two long-hair Scottish Fold males in CFA with this title. Here are Gabriel's Grands:
Accomplishments:
Granded in CFA on Nov. 27, 1999 at the Buffalo Cat Fanciers show in Hamburg, NY.
Granded in CCA on Dec. 10, 1999 at the Club Felin De Montreal show in Montreal, Que.
For the 1999/2000 Show Season, Gabriel was the 14th Best Cat in CCA and the Best Longhair Scottish Fold in CCA.
He was also the 7th Best Cat in the Ontario Region.
In CFA, he was the Best Longhair Scottish Fold in the Great Lakes Region
and the 8th Best Longhair Scottish Fold in CFA.
For the 1999-2000 Show Season, Gabe was ISFA's Region 4 Best Longhair Cat & ISFA's National 6th Best Longhair Cat.