GP KINROSS LUCY MAUD MONTGOM'EARY
Blue Patched Mackerel Tabby & White Long-Hair Female
aka "Maudie"
Born: January 4, 2005
Dam: Rum Gully's Dottie McPherson
Sire: IGC Beepafold Elvis Stojko of Kinross
Maudie is a quiet, yet very sweet girl. All of her siblings and her are exceptionally friendly and companionable. Maudie was the third one in her litter to obtain the CFA Grand Premiership status. This doesn't happen too often with Scottish Folds.
Maudie now lives in Pawtucket, Rhode Island, with Wally, DK, Mikey, Mary & Don. She has established her role as Princess in the house, and as such, demands first dibs at the water bowl, and first choice of food. The boys don't mind because she's such a sweetheart.
---

Recent Accomplishments:
ISFA 2006-2007:
National Best LH Cat in Premiership
Region 1 Best LH Cat in Premiership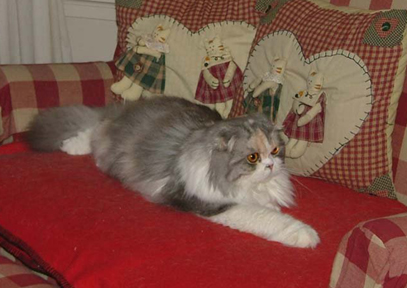 "The intuitive January cat can be a loyal and trustworthy companion."

Page updated August 24, 2006