GC KINROSS JAMIE SALÉ


Born: February 8, 2002
Dam: Crosshill Fiona Macleod of Kinross
Sire: IGC Beepafold Elvis Stojko of Kinross, DM
Jamie is a calico folded-ear long-hair female. She was named for the Canadian Olympic figure skating champion, Jamie Salé, who with her partner, David Pelletier, won a gold medal. Our Jamie was born during the Olympics. She attended her very first CCA show in Drummondville, Quebec, on June 8-9, 2002, and on the second day came home with Best Kitten in Show. We are looking forward to a very successful show career for this girl!
On November 30/December 1, 2002, Jamie became a GRAND CHAMPION at the CFA Buffalo Show. Way to go, Jamie!
Jamie has retired from the show circuit and stays home and enjoys the peace and quiet! She lives with Diane in New Jersey. Here is what she says...
Recent Accomplishments:
CCA - Drummondville, PQ - June 9, 2002 - Best Kitten in Show
CFA - Buffalo, NY - November 30/December 1, 2002 - Became a Grand Champion
Here is Jamie in her new home: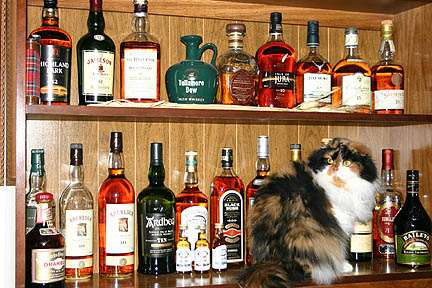 "February cats are delightful, gentle creatures with
an almost psychic intuitiveness and understanding."