GC KINROSS LEAP'EAR LIAM OF RUM GULLY
*affectionately known as Liam
*Red classic tabby LH male
Born: February 29, 2004
Dam: Kinross Sarah Ferguson
Sire: IGC Beepafold Elvis Stojko of Kinross
Liam is a sweet and gentle boy who has the widest, most expressive eyes we've ever seen. He and his new brother Boomer are best friends. Here are some things that his new family is saying about him now...
Liam became a Grand Champion at the Strongsville, Ohio CFA show on January 20, 2007. Congratulations to Liam for achieving this terrific milestone!
---
Recent Accomplishments:
2004 - 2005
ISFA:
National 8th Best Longhair Scottish Fold Kitten
Region 7 - 3rd Best Longhair Scottish Fold Kitten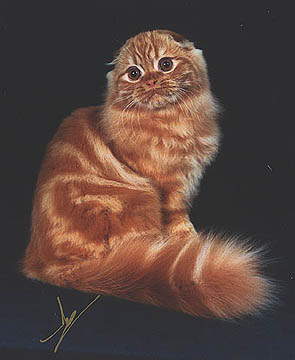 "February cats are delightful, gentle creatures
with an almost psychic intuitiveness and understanding."

January 29, 2007