Dam: Karraway Lil Orphn Annie of Kinross, DM
Sire: IGC Beepafold Elvis Stojko of Kinross, DM
---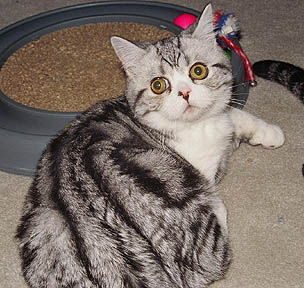 KINROSS PATRICK OF MACGILLI
Patrick is a short-hair, straight-ear silver and white classic tabby boy. He is a little imp and loves to jump on his 2 brothers. He is now living in California with Diane and her cats.
---
Kinross Margaret McMorland
*aka Maggie
*silver patched classic tabby and white female
This girl is a sweet and friendly kitten. She has an incredibly soft coat and huge expressive eyes. Maggie will be staying at Kinross to carry on the family name. You can visit her page here.
---
"Huey"
This is a long-hair, folded-ear silver tabby boy. He is extremely affectionate and comes up to us and nudges us with his nose when he wants attention.
This is Huey in his new home with Pierrette in Ottawa, Ontario: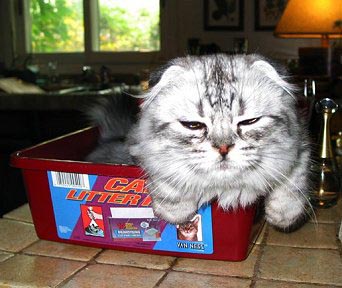 ---
"Kobi"
This is a short-hair, folded-ear brown tabby boy. He is an active little guy and totally fearless. None of the larger cats bother him a bit! He is turning into a lap kitty and doesn't mind being picked up and carried around.
Kobi now lives with Ain & Sylvia in Newmarket, Ontario.
This is Kobi in his new home: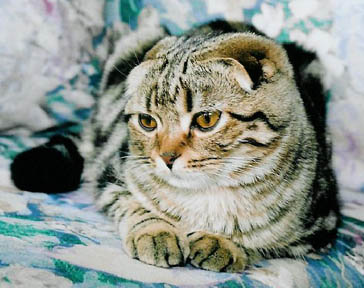 ---
Kinross Along Came Mary
Mary is a short-hair, straight-ear silver patched tabby and white girl, but she has more white on her than her sister does. She is a sweet, affectionate girl who follows us around everywhere. She also loves her mom a lot!
Mary lives in Nebraska now, and we are looking forward to hearing how she fits in with everyone there.
---
Page updated August 29, 2006