Born: October 21, 2005

Dam: Rum Gully's Dottie McPherson, DM
Sire: Kinross James McGlynn

GC Kinross Amazon.com

Amy is a very sweet, outgoing little girl. She has short hair and folded ears. She is a blue tabby van. She is planning to stay at Kinross for awhile and attend some shows.

Check her out on her own page.
---
Artoo

Artoo is a blue and white, long-haired, straight-eared little girl. She is very friendly and playful, yet snuggly and will kiss your nose.

Artoo has left for her new home with Victoria in Toronto, Ontario. They are having fun with her, and the resident cat, Simba, is slowly being accustomed to this little lively upstart!
Here is Artoo in her new home. Check out some updates on her new life:
---
Arwen

This sweet little girl is a long-hair, folded-ear doll.

She is extremely outgoing and loves playing with toys and the other kittens. She loves to cuddle and will fall asleep in your arms.

She and her littermate brother, Frodo (below), now live in Victoria, B.C. and they say that she loves to lick their lips to get their attention!
Frodo

Frodo is a blue and white, straight-eared, long-hair boy. He is the smallest kitten in the litter, but can keep up with his siblings easily. He absolutely adores being picked up and being held close, and will purr contentedly. He always wants to be where the action is.

Frodo is living with his littermate sister, Arwen, in Victoria, B.C.
Here are Arwen & Frodo now. Read the update.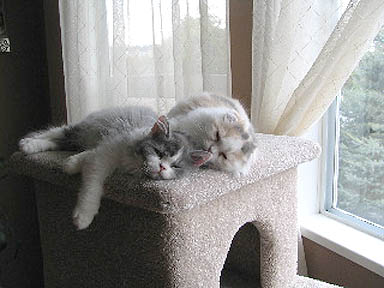 ---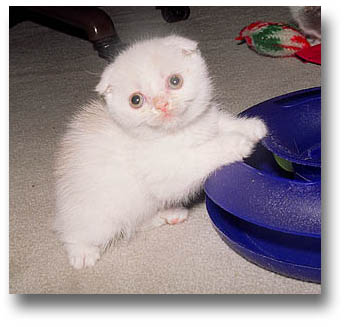 Huxley
This handsome boy is a shorthair, folded-ear sweetheart. He is extremely playful and cannot resist a good tussle with his siblings and the other kittens. His colour is cameo tabby and white.
Huxley now lives with Tanya in Alberta. Here he is in his new home, and this is what his new friends are saying...

New Home Updates:
Just thought I'd write to let you know how much we are enjoying our little Artoo. She is truly a blessing to our home. She now weighs about 4 lbs. and has come through her surgeries just fine. I can't seem to break her of the habit of licking my nose and chin in the early hours of the morning. She's not quite as persistent as she use to be but when she's hungry, look out ---- she wants to eat NOW! so I'd best get out of bed. We've switched to Science Diet wet and dry food as that seems to be ok for both cats and their tummies. Simba has gone back to her quiet self (like she was when Gazoo was living). She hisses at Artoo and even gives her a swat or two. I think they'll eventually be ok.
Just thought I'd send you some more current photos of Frodo and Arwen - they're doing great and we're having so much fun with them! The first two photos are from our first adventure in giving them a bath. The hilarious part was that Frodo didn't want to get out! You can see has just wading around, happy as can be and every time he goes into the bathroom now he jump right into the bathtub, hoping we'll fill it up for him! Neither of them were too thrilled about licking themselves dry, however, as the next photo shows. Then I included some pictures of them playing and sleeping together - you can see how much bigger Frodo has become! He's almost but not quite the same length as Arwen but he's still slighter than her although he's so furry it's hard to tell. Anyway I just wanted to let you know that we're all having a great time out here on the West Coast.
He is a real delight & he & our other cat get along famously - like brothers. His favourite toy is still the sparkle stick, but he also loves when sunlight bounces off my watch face onto the ceiling & walls. (He makes that chirpy sound like when cats see a bird.) He loves to cuddle, too. He & the other one lay on their backs when they are just lazing around - not sure if he learned it from the older one or if that is his natural tendency!
I am back home in Alberta now & Huxley (white - the morning of my wedding next to my shoes) is doing great. He is a gentle but playful little buddy.
Page updated on August 8, 2008