GC KINROSS McGYV'EAR THIS!
Red Classic Tabby & White Shorthair Male

Born: June 3, 2005
Dam: GC Kinross The Littlest Angel
Sire: Valafold Rowdy Roddy Pipe'ear
McGyv'ear was the only kitten in his litter to have folded ears. He was also the only short-hair. He is definitely following in his mother's pawsteps as a show kitty. He loves the younger kittens; first thinking of them as little wind-up toys, now they are playmates to chase and tustle with.
McGyv'ear became a CFA Grand Champion at the Simpsonville show in North Carolina on August 5, 2006. And, for the 2006-2007 show season, he was the National 2nd Best of Breed SH Scottish Fold in the Canadian Cat Association.
McGyv'ear's name is now Rufus. He lives with Linda in Bronxville, NY. Let's see how he's settling in...
Rufus is honing his skills on the computer. He recently sent us this project he completed, letting us know how he's doing.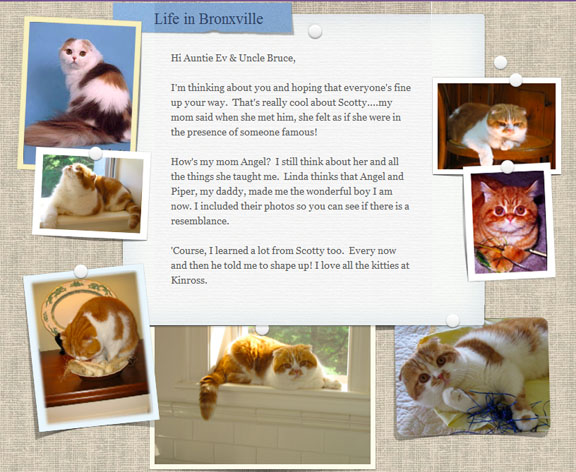 The June cat is energetic and intelligent, interested in everything and everyone, he hates being shut in.

Page updated August 2010