Dam: GC Kinross The Littlest Angel
Sire: Valafold Rowdy Roddy Pipe'ear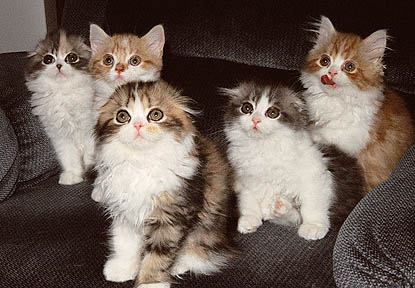 GP KINROSS MIKEY LIKES LIFE
aka "Mikey"
Mikey is a folded-ear blue and white long-haired boy. He loves to follow us around and watch everything we're doing. He is extremely friendly, and loves to be picked up and petted. He loves running water, and will come running from anywhere when he hears the bathtub being turned on! He attended his first kitten show recently and thought it was lots of fun!
Mikey's new home is in Pawtucket, Rhode Island, with Mary, Don, DK and Wally. Check out his own page for his show accomplishments and his new life.
Mikey is now a CFA Grand Premier!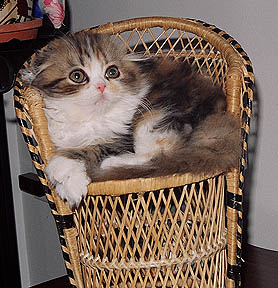 KINROSS ON ANGEL WINGS
aka "Kenzie"
Kenzie is a brown patched and white, folded-ear, long-haired girl. She is a sweet little girl who loves to play. She seems to be the leader of the group, checking everything out, climbing in it or on it. She has now gone to live with Alex, Carole & Bill, in Brantford, Ontario.
Here is Kenzie in her new home: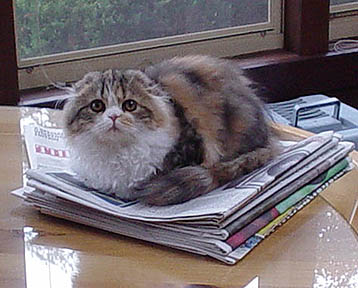 CH KINROSS TOUCHED BY AN ANGEL
aka "Tess"
Tess is a dilute calico, folded-ear, long-haired girl. Her wide open eyes are always alert and watching. She has tightly folded ears, and an easy-going disposition. She went to her first show recently and came home with her first rosette. Her show season accomplishments for 2004-2005 are as follows:
ISFA:
National 4th Best Longhair Scottish Fold Kitten
Region 4 - Best Shorthair Scottish Fold Kitten
Tess now lives with Edna Johnston near Rochester, New York. She is pampered, loved and totally adored. This is Tess in her new home: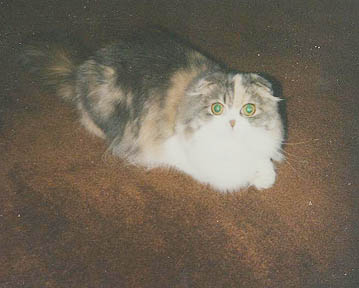 "Maxwell Smart"
Maxwell is a red classic tabby and white, straight-eared boy. He was the only short-haired kitten in the litter.
He has gone to live with Cooper and Julie in New York. They say he is very affectionate and loves to be carried around like a baby, cradled in their arms.


Kinross Hallelujah of Dalbodre
aka Halle
Halle is a red classic tabby and white, straight-eared, long-haired girl. She is so gentle and sweet. She loves everybody and is afraid of nothing. She has a solid body and is the largest kitten in the litter.
She has now flown across the ocean and joined her uncle MacDougal in South Korea, to be with Jin Son at Dalbodre Cattery.

Page updated September 6, 2005