Dam: Karraway Lil Orphn Annie of Kinross, DM
Sire: IGC Beepafold Elvis Stojko of Kinross, DM
KINROSS EILIDH (pronounced ay-lee)
aka Wee Bonnie Lass
Bonnie is a silver patched tabby & white, folded-ear, long-haired girl. She is the leader of the litter, and likes to tease her brothers and sister. But she's mama's girl and will follow Annie around. She is learning how to buddha-sit like her older sister, Angel. She is an extremely friendly girl, who gets along with everyone. Bonnie has packed her bags and is now living in Calgary, Alberta with Joan.

SNICKERS
This little sweetheart is a long-haired, straight-eared, blue cream girl. She is a friendly kitten, and will come seeking affection. Snickers now lives with Bev and her family in New Hamburg, Ontario. We're looking forward to hearing how she's doing there...
Here she is in her new home: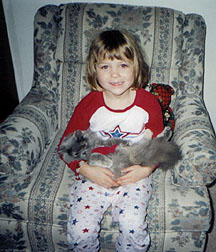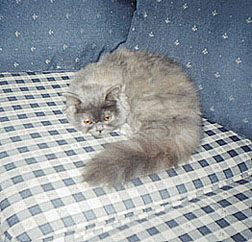 "COOPER"
This boy is a brown classic tabby and white longhair. His tightly folded ears and large bright eyes make so endearing. He is relaxed around the other cats, and loves to play with anything that moves. He loves to be held and cuddled (for a minute or two), and then it's off to play again! Cooper now lives with Julie in Rochester, sharing his home with another Kinross cat, Piper Jr., and another dog and cat. He went to work with Julie the first week, and made friends with everyone there. Here's what Julie says about Cooper...

KINROSS MacDOUGAL OF DALBODRE
This little boy is almost identical to his brother, with his folded ears and brown classic tabby pattern. He loves to tussle with his brother and sisters. He just attended his first show, and got a Best Kitten rosette. He is a laid-back kind of guy, taking everything in stride. You can see more of MacDougal on his own page.

Page updated March 25, 2004