Dam: Karraway Lil Orphn Annie of Kinross, DM
Sire: IGC Beepafold Elvis Stojko of Kinross, DM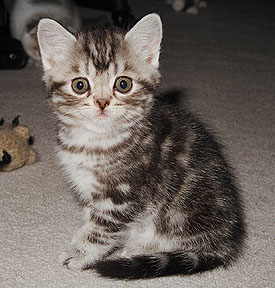 "Eddie"
This is a straight-eared, silver classic tabby short-hair boy. He loves to run - fast - and is a bundle of energy. But then he settles down and wants to be petted.
Eddie now lives in Guelph, Ontario, with his half-sister, Molly, and we hear that they are settling in well.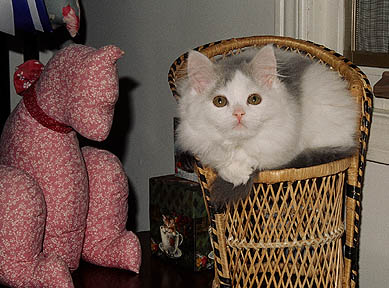 "Fuzzee"
This little boy is a blue tabby and white. He has long hair and straight ears. He's very friendly and is the first one to greet us. His coat is extremely soft. He loves to bounce around from one toy to another.
Fuzzee now lives with Terri, Brian & Rachel in Burlington, Ontario. He was lucky enough to have half-brother, Gizzmo, come to live with him in his new home. Here is what they're saying about the boys . . .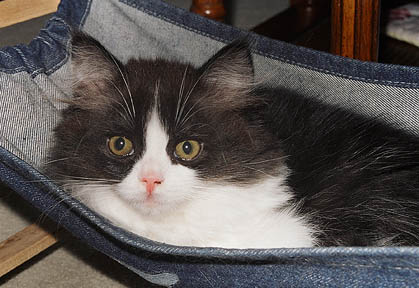 "Wee Nucl'ear Explosion"
aka Nuke or Boomer
Nuke is a long-haired black and white straight-eared boy. He is extremely friendly and loves to be petted. He is a laid-back kitten and gets along with everyone.
Nuke lives with Kim, Pedro, Mufasa, Purracan & Bear in Saco, Maine. They say he's fitting in very well, and on his first night in his new home, curled up with one of the Maine Coons, Mufasa. Here are some stories from Nuke . . .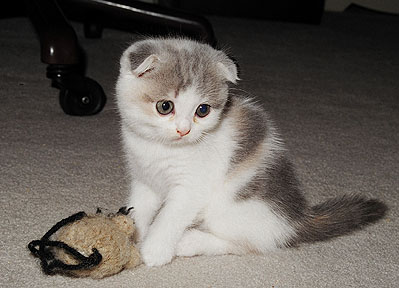 "ELEANOR"
aka "Ellie"
This is a short-haired blue-patched tabby and white girl. She is the only folded-ear kitten in the litter. She's also the only girl in her litter, but that doesn't stop her from jumping on her brothers and having a great time with her toys.
Ellie has joined Zachary, Riley and Sue in the Toronto, Ontario area.

Page updated August 24, 2004