Dam: IGC Kinross Blue Skye
Sire: Valafold's Rowdy Roddy Pipe'ear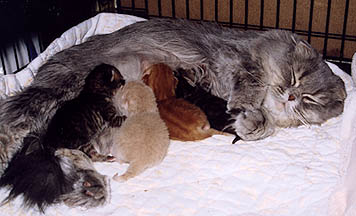 Kinross William Wallace {aka Willie}
This brown mackerel tabby boy is the only folded-ear kitten in the litter; he also is the only one in the litter to carry his mother's long hair. He is a friendly little guy who loves to snuggle and purr as soon as you pick him up. Check out his own page for new pictures and show events. Willie now lives near Bordeaux, France with Dominique.

Kinross Cherrie of Rum Gully
This is the only girl in the litter. She is a brown patched tabby straight-ear. Her large eyes captivate you; and her soft coat with its prominent classic markings make her beautiful to look at. She is now living in South Carolina with Barbara & Shelton, and will be a part of a cattery there.

"Zachary"
This cream mackerel tabby straight-eared boy is a real sweetheart. He follows us around everywhere, and loves to sit on or beside us. Zachary now lives with Sue in Burlington, Ontario. He is settling into his new home very well. Let's see what he's up to... He now has a little kitten companion who has recently joined him. We are looking forward to hearing how Riley and Zachary are getting along...
Here are pictures of Zachary in his new home: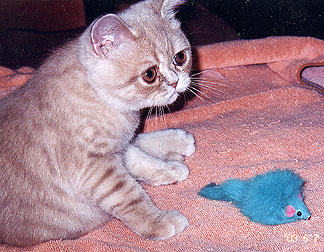 MacTaffy
This red classic tabby straight-eared boy is a friendly little guy who loves to play. He loves to play with his two brothers, but is gentle with his sister. MacTaffy (Mac or Taffy) now lives with Gayle and Bruce in London, Ontario. They say he's settled right in and made himself at home. Let's see what they have to say...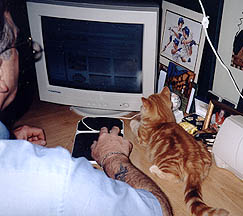 Back to Skye's page // Sire to these kittens is: Piper
Page updated November 4, 2003