Born: January 4, 2005

Dam: Rum Gully's Dottie McPherson, DM
Sire: IGC Beepafold Elvis Stojko of Kinross, DM
---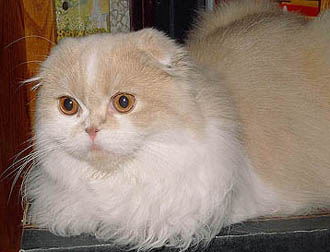 GP Kinross Welcome Back Kotter
Kotter is a cream and white tabby, folded-ear, long-haired boy. He loves to play and jump on his siblings. He is extremely friendly and loves to cuddle. Now a Grand Premier in CFA, he has retired from the show circuit. Check out his own webpage...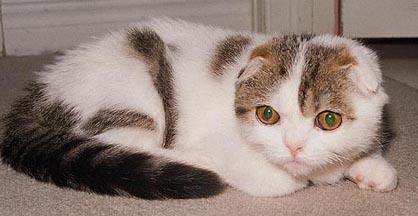 GP Kinross Mr. Burns
aka Bernie
Bernie is a brown and white tabby boy. He has folded ears and short hair. He is extremely affectionate and will give you chin butts and nose kisses. Bernie is now a Grand Premier in CFA. Check out his own webpage...

Leo
This little guy is a short-hair, straight-ear brown mackerel tabby and white boy. He is a friendly little guy who loves to run. He also loves to eat!
Leo now lives with Phil & Elizabeth in Maple, Ontario. He is settling in very nicely . . .

GP Kinross Lucy Maude Montgom'eary
* aka Maudie
Maudie is a folded-ear, long-hair, blue-patched tabby and white girl. She, along with her sister, LD, have a lot of fun together, and are always vying for our attention. Maudie obtained her CFA Grand Premiership status in Erie, PA on April 29, 2006. Visit her own page.
Maudie now lives in Pawtucket, Rhode Island, with Wally, DK, Mikey, Mary & Don. She has established her role as Princess in the house, and as such, demands first dibs at the water bowl, and first choice of food. The boys don't mind because she's such a sweetheart.
---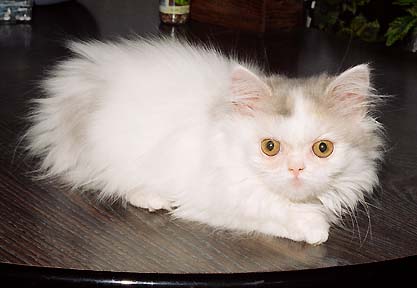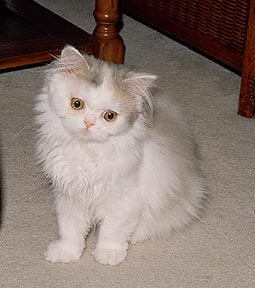 Kinross Little Dot, DM
* aka LD
LD is a straight-ear, long-hair, dilute calico girl. She is very affectionate and will give you nose kisses. She loves to eat and chase the laser light. She will be staying at Kinross. Go to her own page.
---
Page updated on August 24, 2006