Dam: Kinross Sarah Ferguson
Sire: IGC Beepafold Elvis Stojko of Kinross, DM

"MacLeod"
aka "Cloudy"
Cloudy is a cream classic tabby shorthair boy and the only straight-eared kitten in the litter. He is an active and friendly boy who loves to run and climb up the cat tree, and then jump down on top of his brothers. He loves to chase the laserlight, too. He has a deep rumble purr that he turns on instantly. He loves to be in the center of the activity, and wants to be petted ALL the time.
Cloudy now lives with Lauren, Tom and Boswell in Massachusetts. Here's how Boswell and Cloudy are getting along...

GC KINROSS LEAP 'EAR LIAM OF RUM GULLY
(red classic tabby LH male)
Liam is a long-hair red classic tabby boy. He has tightly folded ears, and wide expressive eyes. He constantly asks to be petted and picked up. He's a bit more laid-back than his cream short-haired brother, but will enter in and play, especially with the laserlight. Those eyes are constantly alert, and always wants to be where the activity is. He's looking forward to going to his first kitten show this summer. Check out his web page...
Liam now lives with Barbara & Shelton at RUM GULLY Cattery in Prosperity, South Carolina. He is busy on the show circuit, and is making lots of new friends in the south!
---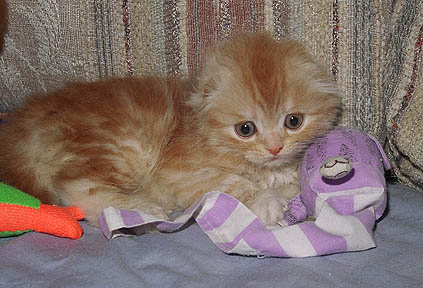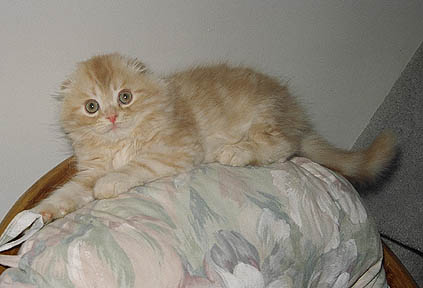 KINROSS CALUM MACFIE
Calum is a long-hair cameo classic tabby boy. He is a playful, happy little guy who loves to tussle with his brothers.
Calum now lives with Carole & Bill in Brantford, Ontario, along with his new sister, Alex. They say that he's fitting into his new home very well, and keeps them in stitches with his antics. Let's hear what they say . . .
Here's Calum in his new home:
Page updated on March 21, 2005