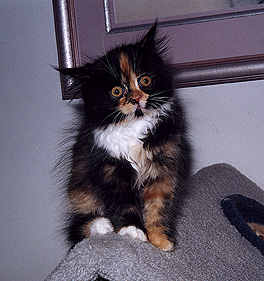 BELLA
(tortie and white SE female)
They say torties have a bit of an "attitude." However, Bella is a sweet-tempered girl. Although she wants to be in on all the action, playing/fighting with her 4 brothers, she will cuddle up to us whenever we sit down. Those eyes -- copper, and oh, so round -- make her captivating and beautiful. She now lives with Justin and Jessica in Rochester, NY. See what they think of her...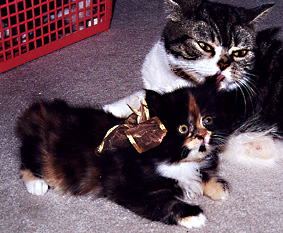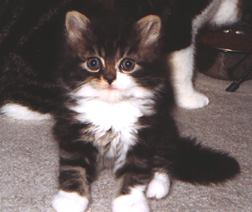 CUJO
(brown classic tabby and white longhair SE male)
Cujo has got to be one of the gentlest kittens around...he gets it from his dad, "Gabriel." His soft coat, with the white chest, accentuates those round expressive eyes.
Cujo with his older brother Samtoo. Barbara from Elora tells us how he's doing...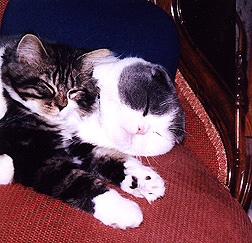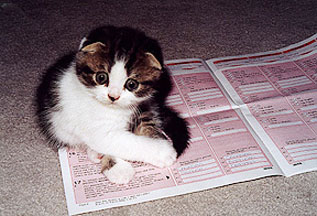 FRASER
(brown classic tabby and white shorthair FE male)
Fraser is a very affectionate boy; he loves attention and needs to be with his humans all the time. Fraser flew all by himself on an airplane to Nova Scotia, where he now lives with Chad, who simply cannot live without a Scottish Fold. And Fraser is everything a good Scottish Fold is: in-your-face, quiet, playful, and, of course, handsome! Here's what Chad has to say about Fraser...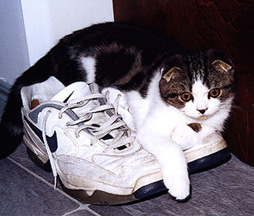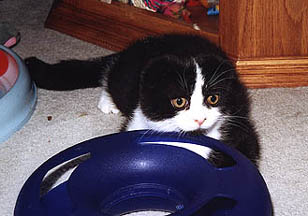 aka "Wally"
(black and white shorthair folded-ear male)
Wally is a very special boy. You can just tell by his picture that he bears his name well. His extremely friendly nature is combined with a spontaneous, fun-loving spirit. His soft and plush coat is gorgeous; those eyes and black chin draw you toward his well-rounded body. He will play until he drops...literally. He and his brother, Sterling, attended several shows together, until Mary and Don spotted him, and were not content until they owned him. Actually, the truth of the matter is...Wally owns them!
Wally now lives in Rhode Island, with his new housemates, Marbles and Checkers, and his servants, Mary & Don. See how Wally has wrapped Mary & Don around his paw! Wally now has his own home page. Check it out!
Just recently, Wally's nephew, Kinross DK Lloyd Alexand'ear, has joined the family.